In the world of soccer, there are several powerhouse teams that dominate. In this article, I will discuss one of those franchises and its coach. I'm talking about Manchester United manager Sir Alex Ferguson. While he may not be well-known here in the United States, this man is a legend in England and throughout most of Europe.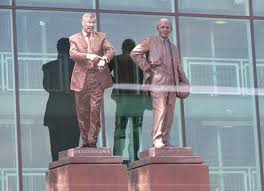 Manchester United manager Sir Alex Ferguson was born on December 31st in 1941 so he was a New Year's Eve baby. He was born in Glasgow, Scotland so as you can imagine soccer had an influence in his early childhood. At the age of 16 he made his debut as a striker with Queen's Park but was unable to make this work and keep a steady job at the same time. The next year he would sign with Dunfermline and become a professional soccer player.
Playing for Dunfermline in the Scottish League he made a quick impact on the sport. Many younger fans may not know that current Manchester United manager Sir Alex Ferguson led the Scottish League in scoring during the 1965-1966 season. The young striker scored 45 goals in just 51 games which is pretty impressive to say the least. A career with Rangers was in the future and a record deal was reached in the transfer. Over the next several years there would be controversial issues where he was blamed for a losing goal and his wife being Catholic. In 1974 current Manchester United manager Sir Alex Ferguson finished his playing career with Ayr United.
While he may be known as the manager for Manchester United Sir Alex Ferguson got his coaching start in 1974 with East Stirlingshire. Even though he was only there for a year he left his mark as a tough man that demanded results. The next year he would take over St. Mirren and over the next four years the team would go from a struggling program to a championship caliber team.
After a falling out with St. Mirren Sir Alex Ferguson would step in as manager for Aberdeen. The team was a major program in Scotland but had struggled when Fergie stepped in as coach. After some issues with earning respect from players Aberdeen was turned around winning several Scottish League Cups in the process. The legendary Manchester United manager Sir Alex Ferguson felt like he had finally earned the respect from his players and peers as well.
In 1986 Sir Alex Ferguson would take over as manager of Manchester United. In just a year after taking over the franchise the team would go from 11th to 2nd place in the league. In 1992 Manchester United would win the Football League Cup and EUFA Super Cup for the first time. Then in 1993 Sir Alex Ferguson would lead his men to a Premier League Championship earning Manager of the Year honors along the way.
The 1998-1999 season would make history for Manchester United manager Sir Alex Ferguson. The franchise would go on to win the Premier League Championship, FA Cup and Champions League all in the same year. In 1999 on June 12th Sir Alex Ferguson received his knighthood for his skills as a manager and loyalty as a person on and off the field.
Manchester United manager Sir Alex Ferguson Statistics and Honors
– 11 Premier League Championships
– 5 FA Cups
– 3 League Cups
– 9 Premier League Manager of the Year awards
– A career record of 1,091-463-355