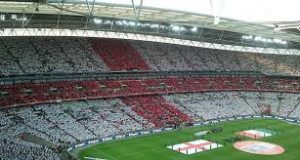 We all know of the brilliant football available in England. But which stadiums are the best? For this top 10 list of best football stadiums in England, stadium capacity was used. Capacity may not make a stadium good, but for simple measures, let's assume that a higher stadium capacity equals higher gate receipts which in turn helps improve the quality of the football team and stadium.
No. 5 – Stadium of Light
Stadium Capacity: 49,000
Built in 2000, the Stadium of Light is home to the English football club Sunderland AFC and is located in Sunderland. The stadium has had a long and still has plenty to go. Depending on club performances, the stadium has the potential to be expanded to a stadium capacity of 64,000. This would jump the Stadium of Light to being the 3rd best football stadium in England.
No. 4 – St. James' Park
Stadium Capacity: 52,200
Built in 2000, St. James Park is home to the English football club Newcastle United and is located in Newcastle. With the possibility of expanding to 60,000 seats, St. James' Park is one of the best stadiums in England. The stadium has been chosen to used in 2018 World Cup if hosted in England and has already featured international fixtures in the Euro 1996 competition.
No. 3 – Emirates Stadium
Stadium Capacity: 60,000
Built in 2006, the Emirates Stadium is home to the England's Arsenal football club and is located in London. Emirates Stadium was born out of necessity. A top English team like Arsenal was playing at Highbury Stadium with a capacity of 38,419. Being one of the newer stadiums in England, it has not featured international fixtures but you can be sure that this will change.
No. 2 – Old Trafford
Stadium Capacity: 76,000
Built in 1910, Old Trafford is also one of England's most known stadiums. This is mainly thanks to it being the home of English football club Manchester United. Old Trafford is located in Manchester. With an every growing fan base, Manchester United are looking to expand Old Trafford yet again and this looking to hit the 95,000 mark. With that kind of expansion, it will easily become the top football stadium in England.
No. 1 – Wembley Stadium
Stadium Capacity: 90,000
Built in 2007, the Wembley Stadium takes top honors as the number 1 stadium in England. Wembley is the home to England's national football team and is rightfully the best stadium in the country. It is also the second largest stadium in all of Europe.